Archive for the 'Vitser' Category
Her er noen vitser fra fødeavdelingen
Far: -Hun hyler og bærer seg og det er vann overalt!
Jordmor: -Er dette det første barnet hennes?
Far: -Nei,det er MANNEN hennes!
Jordmora:»har slimproppen gått?»
Den fødende: «ja, han gikk for å hente kaffe»
Hva er likheten mellom en jordmor og en katt? De sitter begge tålmodig og venter utenfor musehullet.
Far: Det der må nok syes igjen etterpå, antakelig.
Jordmor: Må nok det.
Far: Men ikke HELT, vel?
Det er kjent at jordmødre som regel slår seg sammen med litt puslete, små menn. Vet dere hvorfor? Jo, jordmødre synes det er helt fantastisk med ti centimeter og forventer ikke mer!
Mannen hadde insistert på å ha lyset slukket på soverommet i alle år. Etter 15 år kommer kona tilfeldig bort i lysbrysteren. Hun utbryter: "Har du lurt meg i alle år – din impotente jævel!" "Ok da, jeg kan forklare dildoen – så kan du forklare ungene", svarte mannen.
Plakat utenfor sykehusets sædbank: Takk for at du kom.
Gjett om gynekologen var strålende fornøyd da han fikk en skritt-teller i julegave!
"Jaså – du er gravid", sa moren til datteren. "Sånn går det når man hopper til køys med den første og beste". "Snille mor", sa datteren. "Han var verken den første eller beste!"

Telefon til føden
Jordmor: – Har vannet gått?
Far: – Vent litt, jeg skal sjekke.
(pause) Far: – Nei, vi har vann fremdeles,vi!
Anders var tiltalt i en farskapsak. Han måtte fylle ut et skjema hos lensmannen. Navn, adresse og bopel gikk greit, verre ble det med stilling. Han skrev til slutt: "I stående stilling, mot veggen til samfunnshuset".
Lisa spør om det er mulig å bli gravid mens man ammer? "Ja, men det er lettere hvis barnet har spist seg ferdig. Du bare tar ham vekk fra brystet og legger ham til å sove først".
Far: Er det jordmoren?
Jordmor: Ja
Far: hun føder snart nå! Hvor lang tid skal det være mellom?
Jordmor: Unnskyld, men er du maken?
Far: Det har da for pokker ikke noe med saken å gjøre om jeg er NAKEN!
Far: Er du sånn….jordmor?
Jordmor: Ja, det er jeg, men hvorfor hvisker du?
Far: Fordi samboeren min sover.
Jordmor: Jamen da er det vel ingen grunn til å…
Far: JO! Hun er tre dager over termin, og hun lager så snåle lyder i søvne at jeg tror fødselen er igang. Syns du jeg skal vekke henne?
En pensjonist dro på ferie til Karibia for å nyte det tropiske klimaet. Etter den første svømmeturen la han seg på rygg for å døse litt. Han duppet tvert av, og da han våknet mange timer senere, var han solbrent til det ugjenkjennelige. Han tok strake veien til legen for å få behandling. Legen betraktet de sjokkrosa beina til mannen og ristet på hodet. Det er dessverre så som så med sykehusfasilitetene her, sa legen. Det er ikke stort jeg kan gjøre for å hjelpe deg. Men du kan i det minste ta denne før du legger deg. Fyren betraktet legen undrende da han fikk overrakt en Viagra-tablett. Jeg har akutt solforbrenning, utbrøt han. Hva pokker hjelper det med en Viagra-tablett? Viagra hjelper ingen verdens ting mot solforbrenningen, sa legen. Men den vil i det minste løfte sengeteppet fra de solbrente lårene dine.
Avdelingssykepleieren hadde innprentet de nye sykepleiestudentene at de ikke måtte fremheve noen av legene fremfor en annen.
Så en dag hørte hun en av sykepleiereleven svare i telefonen:
– Vi har seks leger her på avdelingen, men jeg kan desverre ikke anbefale noen av dem.
To yngre sykepleiere fra Oslo hadde bestemt seg for å feriere nær naturen. Etter litt "research", kom de frem til at leie av sæter i Gausdal måtte være midt i blinken. De avtalte med bonden diverse ønsker for å få mest mulig autentisk sæterliv. Blant annet skulle de få med seg ei ku til sæters. Bonden hadde gått med på dette, men angret seg. Han var litt av en spilloppmaker, og hadde leid opp en godmodig okse i stedet for. Dette sa han ikke noe om, og fikk heller ingen reaksjon fra jentene. Når ferieoppholdet var over, kom sykepleierne ned fra sætra og satt ved kaffebordet hos bonden da han forsiktig lurte på om krøtteret hadde svart til forventningene. Sykepleierne så på hverandre. De hadde jo hatt det så kjempefint på sætra, men de måtte innrømme at kua ikke hadde vært noe tess, så den ene sa forsiktig: Den kua Deres var svært snill, men mye melk fikk vi ikke ut av den. Men det ble da en skvett hver morgen til kaffen iallfall.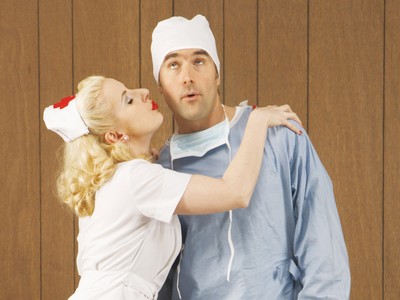 Sykepleiern og legen hadde et forhold. Kort tid etterpå, fortalte hun ham at hun var gravid. Legen ønsket at kona ikke skulle få vite dette så han ga sykepleieren en sum penger og ba henne om å reise til Italia og føde barnet der.
«Men hvordan skal jeg la deg få vite at barnet er født?» spurte hun.
Han svarte: «Bare send meg et postkort og skriv «spaghetti «på baksiden. Jeg skal ta meg av alle utgifter. Sykepleieren viste ikke helt hva hun skulle gjøre, så hun tok pengene og fløy til Italia.
Seks måneder gikk, og så en dag ringte legens kone til ha på kontoret og sa: «Kjære, fikk du en veldig merkelig postkort i posten i dag fra Italia, jeg skjønner ikke hva det betyr.
Legen sa: «Bare vent til jeg kommer hjem, så skal jeg forklare det til deg.»
Senere den kvelden legen kom hjem, lese postkort, og falt om på gulvet med et hjerteinfarkt. Ambulansepersonell hastet ham til akuttmottaket på sykehuset. De ansatte der lurte på hva som hadde satt igang infarktet.
Så kona tok opp postkortet og leste: «. Spaghetti, Spaghetti, Spaghetti, Spaghetti – To med pølse og kjøttboller, to uten»

Tre gubber sitter og snakker sammen på sykehjemmet.
«Den beste tiden er jula,» sier Arnt, «familien kommer reisende fra hele landet, barn og barnebarn, og så spiser vi julemat og drikker Akevitt.»
«Tull og tøys! Den beste tiden er påsken,» sier Johannes, «da blir dagene lengre, det spirer og gror ute, og vi vet det stunder mot vår!»
«Jeg synes nå den beste tiden er når jeg møter en åpen favn hos min kone i ektesenga,» sier tredjemann, 70-åringen Olav.
«Det kan du ha rett i,» medgir Arnt, «men jul og påske er det nå faktisk hvert år!»
Læreren: Hva hjelper Paracet mot? Det hjelper mot hodepine, svarer Stine.
Læreren: Det er riktig. Kjenner dere til flere medisiner?
Viagra, sier Ole. Hva hjelper det mot da, spør læreren, før hun får tenkt seg om.
Diarè, svarer Ole. Hva??
Jo, mamma sier bestandig til pappa: Ta en Viagra så den skiten din stivner…
Det er en forelesning i anatomi på sykepleiestudiet, og en av de kvinnelige studentene får spørsmålet: "Hvilken del av den menneskelige anatomi kan utvide seg tredve ganger?"
Jenta rødmer og stammer, og svarer at det ønsker hun ikke å svare på. Læreren stiller da spørsmålet til en av guttene, som korrekt svarer: "Øyets pupill."
Læreren smiler lurt. "Helt riktig unge mann, og De unge frøken, bør nok dempe forventingene dine en smule!"
Hvilken høytid synes damene er verst? Påsken, for da må de ha høna fremme hele uka.
Denne meldingen er bare for intellektuelle, pene, sexglade, dannede, med et ungt sinn. Ta vare på deg sjøl denne påsken! Det er ikke mange av oss igjen…
Sender en fe med en koselig beskjed. Lån ham ditt øre, så skal du få høre. Han visker forsiktig en hilsen fra oss: God påske!
Send denne påskeklemmen til ALLE du er glad i. Ellers kommer den onde påskeharen og driter i påskeegget ditt! God påske!
Ønsker deg og din familie en riktig god påske!
En tanke kom, en tanke gikk, men plassen i hjeret var det du som fikk. For akkurat nå jeg tenkte på deg, med ønske om en god påske fra meg
Jeg er en liten påske klem som hopper fra mobil til mobil for å spre lys og varme. Jeg vil sende den videre til alle jeg er glad i. God påske
The Easter feeling does not end, it signals a new beggining of nature spring and brand new life of friendship. Happy Easter to My Best Friend!
The budding trees, the new flowers, and birds that sweetly sing, whisper to me that it's Easter. Here is wishing a warmth for your soul on Easter and always! Happy EasterEaster is a promise God renews to us in each spring. May the promise of Easter fill your heart with peace and joy! Happy Easter!The spirit of easter is all about Hope, Love and Joyfull living. Happy Easter!
Let this joy of Easter may fill up your heart today and the whole year ahead. Happy Easter!
The Lord came to earth with a life to give, so each one of us may continue to live. Happy Easter!
Alleluia, it's Easter time! Jesus rose from the dead. This salvation is for you. Wish the best for you. GOD loves YOU!
Alle barna kom hjem fra påsketur untatt Tine, hun ble tatt av en lavine.
John Fjellbekkmo tipset oss om denne vitsen på våre Facebook sider.
Telefonen ringte hos Olsen.
– God dag det er Marie Olsen.
– Hei, jeg ringer fra Blodbanken. Din mann Petter Olsen var hos oss i går for å ta blodprøver…
– Ja, hvordan det?
– Vi har dessverre hatt et lite arbeidsuhell. Vi hadde også en annen Petter Olsen hos oss i går som tok blodprøver. Beklageligvis er begges personnummer uleselig på prøvene. Sikkert et printerproblem…
– Må han komme tilbake for nye prøver da?
– Dessverre, med de nye kostnadskuttene i helsevesenet, kan vi bare foreta blodprøver en gang i kvartalet, pr person.
– Ja vel…
– Derfor må jeg dessverre meddele noen dårlige nyheter. Din mann har enten HIV eller Alzheimers.
– Men det er jo skrekkelig! Hva skal vi gjøre nå da?
– Vi anbefaler at de tar deres mann med til sentrum og forlater ham der. Finner han veien hjem av seg selv, så ikke ha sex med ham!!